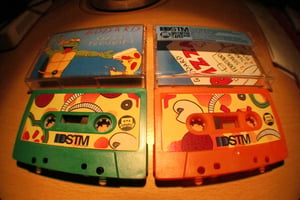 £

3.00
Pizza Throwing Cassette in orange or green (only two greens left).
Released by Don't Shoot The Messenger and Distorted Tapes.
Produced, engineered and mixed by Guy Page and Claydon Connor at Studio 5A on the Isle of Wight.
Artwork by Craig Dolan, pizza topping's by Tom Ben Venn.
LIMITED QUANTITY, ONLY 7 LEFT. 5 ORANGE 2 GREEN!